The best business expert of the 20th century may have been Peter Drucker who said that the first aim of business should be to avoid going broke.
I have gone broke three times.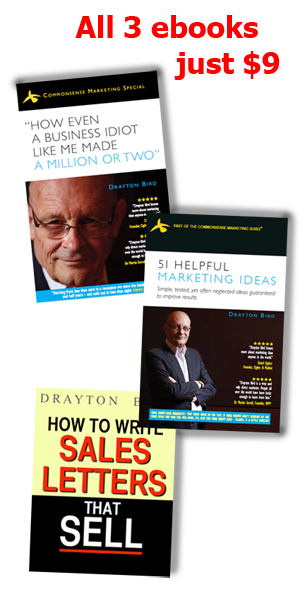 I have never forgotten that my 10 year old daughter had to sell a pony she loved after the first of my cock-ups.
Not the end of the world, but it is these seemingly silly things that stay with you.
Going broke is a bloody miserable, depressing experience. You lose all confidence. Your relationships shatter.
And what is the difference between those who go broke and those who don't?
Those who test don't go broke.
Two out of my three disasters were because I didn't test.
The other was because I trusted people and got screwed right royally.
There is no secret recipe for spotting rats or idiots.
But there is a recipe for testing, and everything I know comes from testing. And that's how I built my agency which I sold for millions to David Ogilvy.
You won't make the same dumb mistakes I did, if I can help it. My business idiot ebook will point you in the right direction.
And to prove a point, I'm going to take a leaf out of Hopkins' Scientific Advertising, and make you an offer only a fool would refuse: All three of my best selling ebooks for just $9.
To buy these books on their own from my store, it would cost you $69.94. So right now you're saving over $60.
My Business Idiot ebook gets the most comments by a country mile - which suggests to me it hits the mark.
My 51 Helpful Ideas ebook, does exactly what it says on the tin - all the snippets I've been mailing you, compiled in one great looking ebook.
And then there's Sales Letters That Sell: I think it's the best book I've ever written. Of course, I'm biased, but absorb that book, apply just some of it and your results will soar.
But why not find out for yourself? It's a one time payment of just $9, for all three ebooks (I spent more than that on coffee yesterday).
Together, the three ebooks contain decades of 'know how'. All the stuff you need to know to transform your results. I shudder to think how much of my money, and my client's money, has been wasted to fund my treasure chest of mistakes.
There lies the rub of it though - we only learn from our mistakes. Success breeds complacency - and that kills businesses. So if you're reading this and pondering whether to part with $9 or not, I question just how serious you are about your sales.
These books contain decades of good ideas (mostly born from my bad ideas). Give one of them a spin and if you're not entirely satisfied you have made the right choice, I'll give you your $9 back without so much as a murmur. It really is an iron clad, no quibble, money back guarantee.
You can grab your 3 ebooks here.
Best
Drayton.